Searching for Best TH2 Bases at town hall 2 shows that how much invested you are in Clash of Clans. Town Hall 2 is the first TH that gives you chance to play multiplayer battles.
You can attack other town halls and your base to face regular attacks from other Clashers. Everyone wants to loot maximum gold and elixir at this town hall while also pushing their trophy to the elite Bronze league.
Clash of Clans Base Setup
We have already shared with you that how you can create a cost-effective army at town hall 2. Read our post and learn how you can get maximum loot while using minimum elixir.
Here in this post, we will share with you the best town hall 2 base layouts that you can copy. Just follow the design and make your base stronger for opponents.
I will be honest with you. At Town Hall 2, You cannot create an anti-3 starbase. However, you can copy a base layout that can give your resources maximum protection.
As the saying goes – Money Saved is Money made. The same is for COC resources. The gold and elixir you protect from your opponents can help you in pushing your TH to the next level.
Let's take a look at what buildings do you need to save at TH2. Learning this early on in the game can help you a lot in long run.
At Town Hall 2 you have the following buildings.
| | | | |
| --- | --- | --- | --- |
| Building Type | Building Name | Number Of Buildings | Building Levels |
| Resource Building | Elixir Collector | 2 | 4 |
| Resource Building | Gold Mine | 2 | 4 |
| Resource Building | Gold Storage | 1 | 3 |
| Resource Building | Elixir Storage | 1 | 3 |
| Resource Building | Builder Hut | 2-5 | N/A |
| Army Buildings | Barracks | 2 | 4 |
| Army Buildings | Army Camps | 1 | 2 |
| Army Buildings | Clan Castle (Inactive) | 1 | N/A |
| Defensive Buildings | Cannons | 2 | 3 |
| Defensive Buildings | Archer Tower | 1 | 2 |
| Defensive Buildings | Walls | 25 | 2 |
Now as you can see you have only 25 walls and just 3 defensive buildings. Good thing is that you won't face an air attack at this level.
Also Read: Town Hall 14 Max Levels List
The Cannon that can only attack ground troops is very much lethal at this level. While designing your base make sure that you are placing your cannons in such a way that these can attack in two opposite directions.
A Level 3 cannon will have an attack range of 9 tiles and it can deliver 15 points of damage per second. Its Hit points are 520 which makes it a strong opponent for a level 1 barbarian.
The archer tower does not have as many hit points or even DPS (damage per second) but it has a bigger tile range.
An Archer tower can target enemy 10 miles away. It can shoot 10 points of damage per second. The hit point of 420 is less than the cannon but still, it can seriously damage the opponent's army with its lethal shots.
After analyzing these stats you might have realized that it would be a smart move to place the archer tower in the middle while the cannon is on the edges. This way archer tower can target far away troops while also protecting itself.
Another piece of advice that I would love to share is – Always use storage and other buildings as a cover for your defensive buildings.
Most people think that walls are enough to cover your defenses but this is not entirely true.
A Smart clasher knows how to utilize its non-active buildings like mines, collectors, barracks, and even storage in an attack.
These buildings can easily hide your defensive buildings.
So without any further ado here are the 11 best TH2 base designs with links –
Best TH2 Base Layout
Here is My base design on Town Hall 2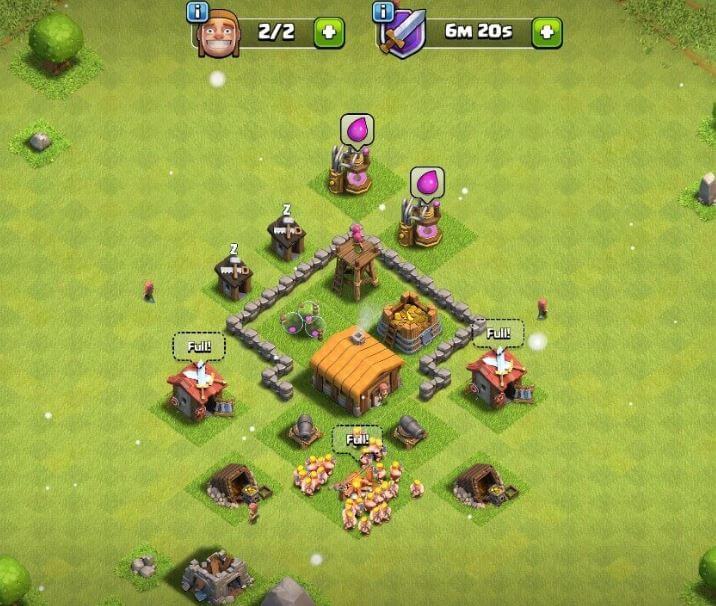 Here is a 2D view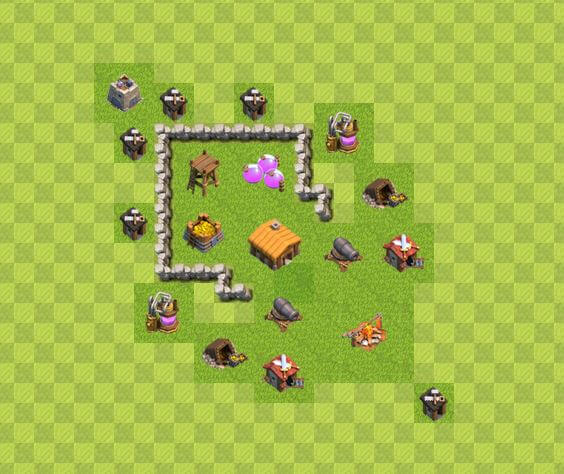 Best TH2 Base Link
Some BIG changes happening later today!
■ Home Village Building upgrade times reduced up to 50% (TH2 to TH11)
■ Barbarian King and Archer Queen upgrade times reduced on the first 38 levels;
■ Reduced several Spell & Troop research times;
■ Reduced Hero regeneration times! pic.twitter.com/8PDD7V0Tjy

— Clash of Clans (@ClashofClans) June 26, 2018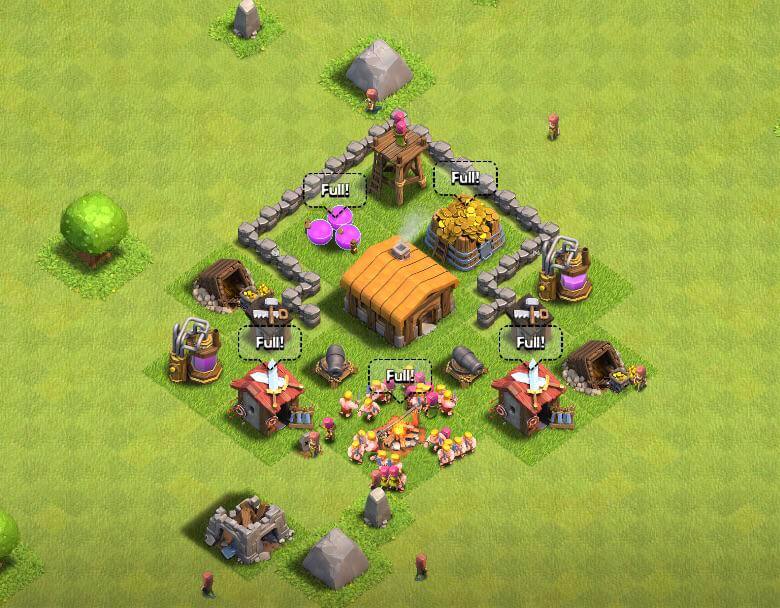 Maxed Out Clash of Clans Best TH2 Base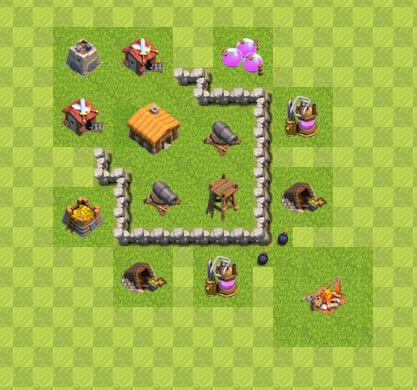 Town Hall 2 Base Designs and Setup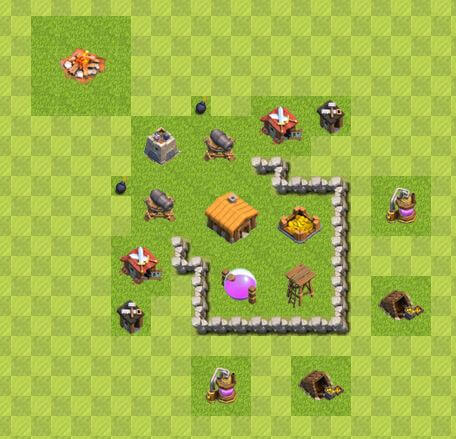 COC Best TH2 Base Latest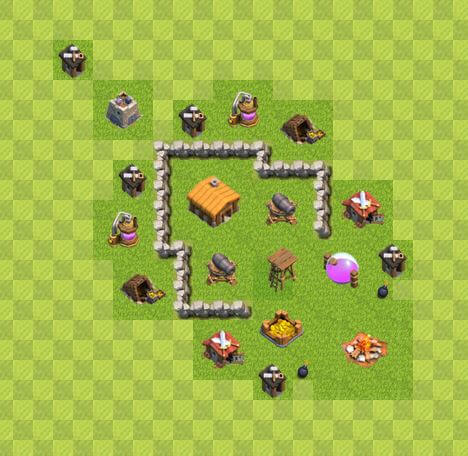 Ideal Home Village Best TH2 Base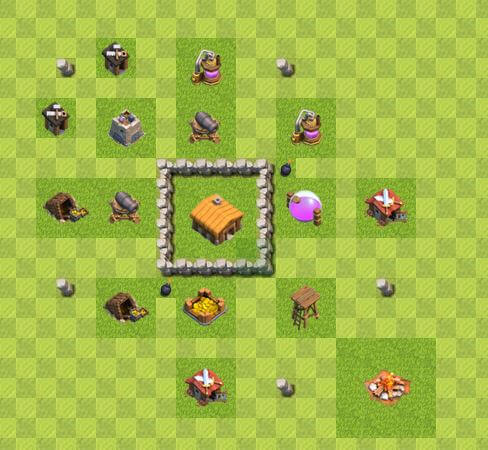 Good Better and Best TH2 Base Layout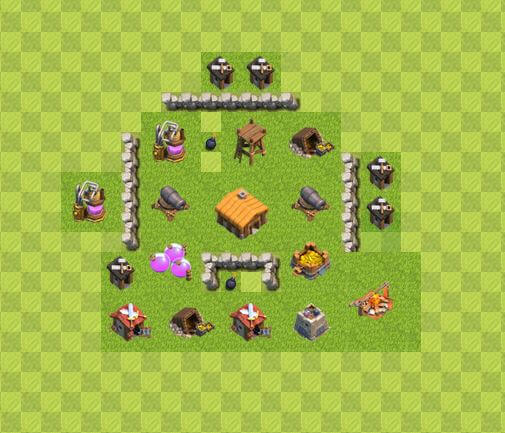 Home VIllage Best TH2 Base Ideas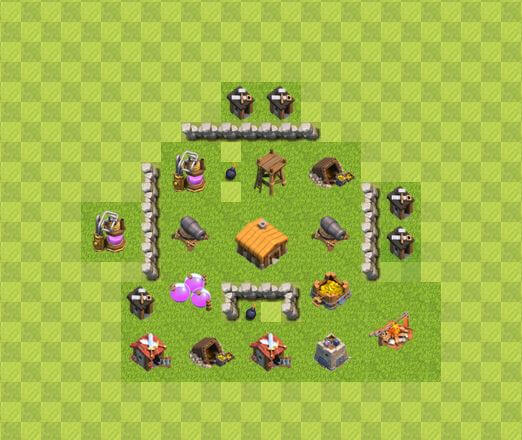 Top and Best TH2 Base Design
Town Hall 1 and Best TH2 Base Design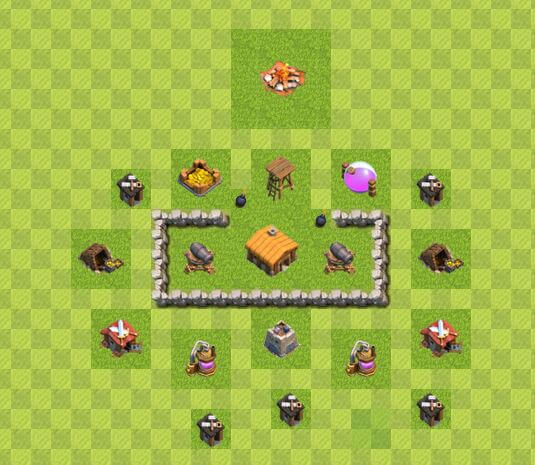 Clash of Clans Best Base Design
Do you know that one clasher reached to the Titan League while sitting on Town Hall 2. Don't Believe me, then check this out.