Many Clashers already know that it is easy to have two clash of clans accounts at the same time. However, If you want to play from one device then it gets very tricky to simultaneously play with two clash of clans accounts.
Here we will tell you in detail about how you can play two clash of clans accounts on one device. First, we will tell you how to do it on an android phone then we brief you about how to do it on the Apple iPhone.
It is common among Clash of Clans players to have two or more accounts. I had played with 10 separate accounts in Clash of clans. I used three devices for that. At one point I managed all my IDs from just one single device.
It is definitely easier to get two clash of clans accounts.
How DO I Make a Second account on Clash of Clans?
After playing for a while you will realize that COC gets tougher at higher town hall levels. At that point, you would want to go back to the time when the game was simpler.
An easy way to do this is by signing up for a second account on clash of clans. It is easy to do so. Here is how you can do it –
Enjoy Two clash of clans accounts ON ANDROID:
Make sure you have two emails added to your phone.
Before you sign up for a second account please verify that your Main Account is already linked with a Google play games account or a Facebook account or with Supercell ID.
After confirming that Go to Settings> Apps List> Clash of Clans
Clear all Cache
Clear All Data
Open the Game again
It will start from the beginning.
After clearing TH 1 the village helper will ask for your name and ID. Add the second email id to your new account.
Two Clash of Clans Accounts On iPhone
First, link your Main account with Supercell ID
No go to App List and Clear the Data
Open the game again
Repeat the same steps as mentioned in 6-9 above. You will be able to add a second account on COC.
Don't worry you can always switch back to your main account.
Can I Have Multiple or Just Two Clash of Clans Accounts on One Supercell ID?
No. This will defeat the purpose of unique identification. You can only have one account per supercell ID.
How to Manage Two Clash of Clans Accounts?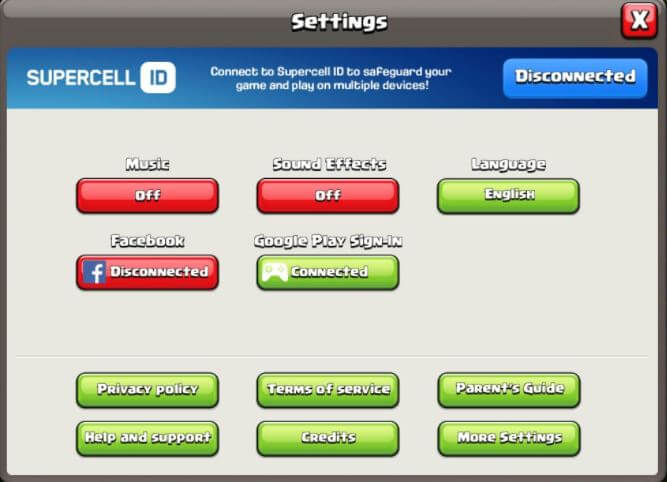 METHOD 1 – Clone it
You can easily do that. Here is How to do it on android and iPhone –
Open Google Play Store (or Apple App Store in case of iPhone)
Download Parallel Space App
Open the App.
Add Clash of Clans App into parallel space with the main account.
Add the second Clash of clans account two
Use a unique name to identify both.
Clash ON
METHOD 2 – Just Switch
Clash of Clans gives an option to log out of your account. If you have attached your supercell id then COC will take you back to account list screens.
(UPDATE – In the settings, you can directly see the SWITCH ACCOUNTS option. It is the arrow button just close to the CONNECTED button).
We have already told you how to sign up for a second (or more) account in COC. Your second account ID will now appear on the Supercell Login Screen.
If you have not linked your game to supercell ID then click on settings.
It will show you which social profile you have connected. You can easily disconnect from it (Facebook or google play games).
After this, a pop-up screen will option where it will show you all the accounts on your phone. Just click on the second email that you used to sign up for the second account.
It will ask for to 'CONFIRM'.
Type CONFIRM in the window.
It will take you to the second account. Don't just limit to two clash of clans accounts. Add as many accounts as you can handle 🙂
You can switch back to your main account by following the same steps. You have to Logout from the second id and sign in from the main account ID from the pop-up screen.
It is an easy method if want to play one game at a time. However if you want to play simultaneously, or if you want to donate troops or attack in clan wars then use parallel space for that.