In Clash of Clans, Town Hall 2 Upgrade order is not a topic to worry about. This is because you are just starting. You can play around with the base designs. Get a grip of the game by moving your town hall all over the base.
Welcome to Town hall 2. You will be upgraded to this town hall in the introductory part itself. The head-woman helps you to max out TH1 in under 10 minutes. She advises you to upgrade to the next TH. Now that you are on TH 2 you are on your own.
Clash of clans Town Hall 2 Upgrade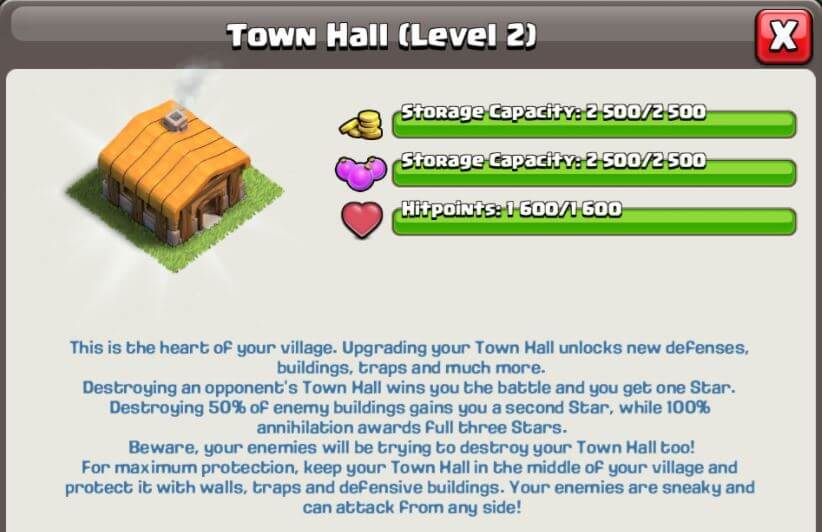 The only thing that you should worry about at Town Hall 2 is that you should move forward with just 2 builders or should you buy a builder pack? I would suggest you go free till town hall 7. Two builders are more than enough to max out Townhall 2.
You can upgrade to Town Hall 3 in just 1 hour. But again don't hurry. You can do single-player missions and practice missions to learn more about the game concept.
Upgrading from Town Hall 1 to town hall 2 took only 10 seconds. But as the game progresses you will find that upgrading the town hall is the most tedious task. You should never rush to the next town hall.
Always Max Out your current town hall before moving on to the test. Yes, it will take time but then again this is what COC is all about. You can learn upgrade order preference early on and it can help you in the long run.
COC Town Hall 2 Upgrade Base
At Town Hall 2, you have the following Buildings unlocked –
Among Resource Buildings you have
Elixir Collector – 2 (Level 4)
Gold Mine – 2 (Level 4)
Gold Storage – 1 (Level 3)
Elixir Storage – 1 (Level 3)
Among Army Buildings you have –
Barrack – 2 (Level 4)
Army Camp – 1 (Level 2)
Clan Castle Ruin
Among Defensive Buildings you have –
Canon – 2 (Level 3)
Archer Tower – 1 (Level 2)
Walls – 25
You will have the following troops available for Army –
Barbarian (Level 1)
Archer (Level 1)
Giant (Level 1)
Goblin (Level 1)
You will not have a spell factory, laboratory, dark spell factory, dark troops, and Heroes.
The game will also tell you about Season Challenges, Clan War League, and Clan Games. You will learn about them too on this blog.
Max Out Town Hall 2 Upgrade
The suggestion box will show you suggested upgrades but you need not follow them. If you are new to the game then do read our tips for newbies that can help you excel in the game early on.
One tip that you should remember is DO NOT SPEND YOUR GEMS. These are the most valuable currency in the game. Gem Box will spawn every now and then on your base.
You have 2 Builders and you can utilize them by maxing out Your TH 2 in the following order –
Start From Building the Second Barrack
Upgrade both Barracks to unlock archer.
Do not clear any obstacles now as you will need gold and elixir for upgrading your base first.
After unlocking the archer, loot for elixir. You can take all barbarians or take all archers. You can take an army of 10 barbarians and 10 archers too.
Use the elixir to upgrade your army camp to level 2.
Now upgrade both your barracks one by one to level 4. You will unlock Giants and Goblins. You will not need them much at this TH but they will come in handy on the next town halls.
After both your barracks and army camp are maxed out, then move to storage. Upgrade both your elixir and gold storages
After this upgrade your elixir collector and gold mine.
If you have bought any resource pack then use it to rebuild clan castle. Otherwise, leave it as it is.
After this upgrade your defensive buildings. First upgrade archer tower then canon.
Upgrade walls in the end. Now you have done Town hall 2 upgrade in order.
Why did in town hall 2 upgrade we did defensive buildings in the end? – Because at this town hall both archer tower and canon are pretty much useless.
These buildings cannot defend you against any attack. Upgrading them, in the beginning, would be a waste of resources and time. You must not move to the next town hall without upgrading your walls. You will hate upgrading walls later in the game but for now, these are fun to do.
.@pelicantacos' Road to Titan….as a Town Hall 2!

Check out the interview w/ @Daddy_Clash: http://t.co/rBLwDh3bHt pic.twitter.com/b9PUDFIRcz

— Clash of Clans (@ClashofClans) July 13, 2015
In Clash of clans, Town Hall 2 upgrade can be maxed out in less than 2 hours. We are also considering the time you took to max out walls.
After you have maxed out your second Town hall be ready for a bigger challenge as you move to Town Hall 3.
We have a detailed guide on what you should upgrade at Townhall 3. Do check it out.
References: Rushing With Gems
Clash ON.