Is Clash of Clans Secretly working on Town Hall 15 update? Will we See TH15 by the end of this year? What new troops will be added to the clash of clans game? Also, we are due for another hero in the COC universe.
All these questions will be answered on this page. To provide the best knowledge we have linked to the official resources that range from the clash of clans' official Twitter account to supercell media manager.
When is town hall 15 coming out?
This is the biggest question circling on the mind of COC lovers. If you are an avid COC fan then you already know that Clash of clans' official website posted in 2020 that they are committed to giving a new town hall in a gap of 18 months.
Also Read – Builder Hall 4 Base Links
We got our latest town hall TH14 in the summer update of April 2021. The theme of this town hall was Jungle. This Town hall update was big as it introduced builder huts as weaponized buildings.
Moreover, we were introduced to Pet house which provides pets to each hero. Apart from this, we were also gifted a new siege machine the flame thrower in the winter 2021 update.
But the clash of Clans team didn't stop at this and posted on the last day of 2021 that they are working on something which will change the whole way the game is played.
It was an obvious hint that Town hall 15 is on the way and fans might get a surprise sneak peek soon before the actual release.
Town hall 15 concept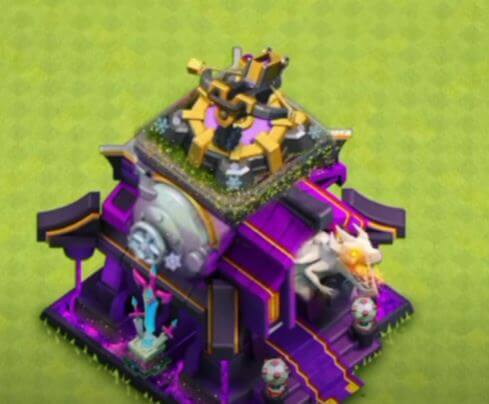 Since then many concept designers tweeted to clash of clans Twitter handle with their own Town hall 15 concept designs. Among the many exciting designs, there was one purple TH15 concept that stood out.
We already know that the Town hall itself becomes a weaponized building after TH12. Therefore TH15 will also be a weaponized building with a new kind of weapon. We have already seen Tesla-powered town hall and more recently Inferno tower-like town hall.
Can we expect an Eagle artillery-like town hall now? The concept showed a dragon head on the gates of the town hall whereas golden lava flowed through the purple-style town hall. This concept was liked by the COC team as well. It featured X-bow on the top which I think is not as good as Giga inferno.
Town hall 15 leaks
The biggest leak regarding town hall 15 was the new hero that will be introduced at TH15. Since pets already exist in the COC universe therefore a Knight similar to a hog rider can be the new hero introduced.
Reddit forums were full of these theorized leaks where the new hero will also be inspired by "woke" culture. Does this mean we can have an NSFW clash of clans now? Does it mean that we will see a gender-neutral hero? We don't know but this concept might not be far from reality.
Town hall 15 update
Clash of Clans has gone through back-to-back maintenance breaks this year. In fact, the game has seen balance changes very frequently in the last two months. If you are following COC since its inception then you probably know that balance changes come when either the troops are too powerful or the defenses are too powerful.
Many YouTubers like sumit007 and JudoGaming noticed that this was not the case in recent updates. It has probably to do with a new town hall introduction as we will probably see new troops, new defenses, and a new hero.
Supercell doesn't want the new troops to be too powerful for lower town hall levels therefore the balance changes are frequently going through. The Clash of Clans has already announced that they are working on a big project and testing a lot of new things. This is the reason why Clash of Clans DNS servers are down frequently.
Town hall 15 base
The biggest issue that the clash of clans team will face will be the overcrowded base. By TH14 we have 100 buildings, 44 traps, and 350 wall pieces.
A fully unlocked town hall 14 can spread out to cover the entire base. So if the game introduced 2/3 new defenses along with a new hero altar along with 25 walls then we might not have enough space to place everything around.
Also, supercell might introduce atleast one troop and one spell at TH15. We are yet to see another dark spell. So if supercell introduces them then the deployment of troops will be tough for big thumb players.
We are hoping the supercell will work out on all these issues before launching the next town hall in clash of clans universe.
Town hall 15 release date
If we are to believe the 18 monthly promise of supercell then we can get our new town hall in the December 2022 Christmas winter update. It will fall exactly 18 months after the town hall 14 introduction in April 2021.
Are you excited about the new town hall in COC? What update do you want to see in TH15? Do let us know in comments about your troop, spell, defenses, hero, or town hall concept ideas. We will let clashofclans official team know about this.
Clash ON