I am really surprised to see that people search for Town hall 1 max levels list in clash of clans.
Even a new player gets upgraded to town hall 2 within 10 minutes. The village helper lady herself guides a new player on how to upgrade a building, train an army, collect resources, and even carry out an attack.
Max Levels List of TH1 in COC
But some players like to record keep to understand how the game progresses from TH1 to TH14. On each town hall upgrade, you will get a new set of buildings as well as new upgrade levels.
At lower town hall levels you won't find it much confusing on what to upgrade and how many levels to upgrade.
But as you move to higher town hall levels it became crucial that you keep carrying out a plan to upgrade your base to the max.
We have provided upgrade guides for each town hall level. You can also check out the max levels of the upgrade of each building at each town hall level.
Here we will discuss town hall 1. Since you are looking for a Town hall 1 max level list so I would assume that you are a newbie in the game who wants to get hold of what each building to and how important it is in-game
All Buildings In Clash of Clans
In Clash of Clans world, the buildings are divided into three main categories –
Army Buildings – These are buildings that help in training your army and holding your troops. These buildings also help you to upgrade your troops to max levels. Some of the key army buildings are – Barracks, Spell Factory, Laboratory, and Army Camps
Defensive Buildings – These are the buildings that protect your base from external attacks. These buildings play a vital role in clan wars. Some major defensive buildings are – Cannon, Archer Tower, Mortar, Wizard Tower, Air Defense, Hidden tesla.
Resource Buildings – These are buildings that mine gold, elixir, and dark elixir for your home village. This category includes Gold Mine, Elixir Collector, and Dark Elixir Drill. The mined resources are stored in storage which is also counted in resource buildings.
Traps – Traps can be counted as part of defensive buildings. These are triggered whenever enemy troops come in range. These stay hidden from the attacker thereby providing a shock factor to the attacker's strategy. Some traps include – spring traps, air bombs, and bombs.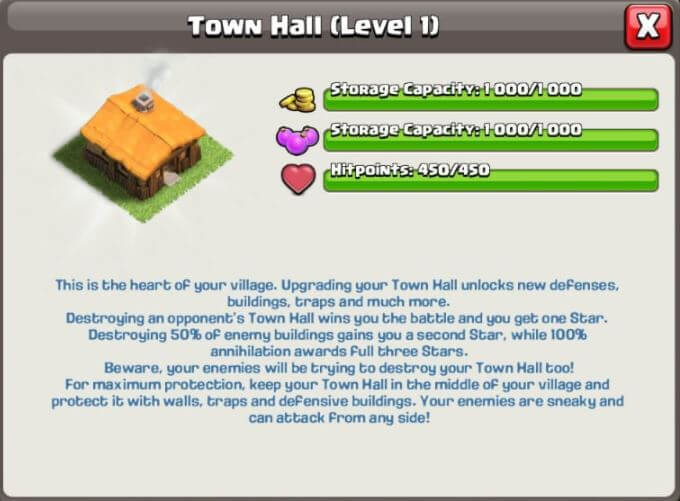 At town hall 1 you have only basic buildings that include 1 elixir collector, 1 gold mine, 1 gold storage, 1 elixir storage, 2-5 builder hut, 1 army camp, 1 barrack, and 2 cannon. Here are their max levels.
Also Read – Best Town Hall 6 War Base Designs
Max Resource Building Levels List for TH1 COC
| | | |
| --- | --- | --- |
| Town Hall 1 Resource Buildings | MAX Level | No. of Buildings |
| Elixir Collector | 2 | 1 |
| Gold Mine | 2 | 1 |
| Elixir Storage | 1 | 1 |
| Gold Storage | 1 | 1 |
Elixir Collector Can be Upgraded to Max Level of 2.
Gold Mine has a Max Level of 2 for Town hall 1.
Elixir Storage has a max level of 1.
Gold Storage has also a maximum level of 1.
Max Army Buildings Levels List for TH1 COC
| | | |
| --- | --- | --- |
| Town Hall 1 Army Buildings | Levels | No. of Buildings |
| Barracks | 3 | 1 |
| Army Camp | 1 | 1 |
The Only Barrack can be upgraded to Max Level of 3
The Single army camp can not be upgraded at town hall 1 and its max level stays 1.
Defenses Max Levels List for TH1 COC
| | | |
| --- | --- | --- |
| Town Hall 1 Defenses | Levels | No. of Buildings |
| Cannon | 2 | 2 |
The Two Cannons Can be Upgraded to a Maximum level of two at town hall 1.
Elixir Troops Max Levels List for Town hall 1 COC
| | |
| --- | --- |
| Town Hall 1 Troops | TH1 Troop Levels |
| Barbarian | 1 |
| Archer | 1 |
| Giant | 1 |
Barbarians are at level 1.
The Max Levels of Archer is also 1.
Giants are also of level 1 at town hall 1.
Town Hall 1 Max Levels of Walls in COC
You do not have any walls at town hall 1.
You get upgraded to town hall 2 very quickly therefore you don't even get to notice these minor yet important details. Among all the stuff happening at town hall 1, the most important for you is to understand the three major troops that you have unlocked at town hall 1.
Stay connected with our blog to improve your COC game strategy.
Clash ON
References: https://clashofclans.fandom.com/wiki/Clash_of_Clans_Wiki