COC Gem Boxes' spawn rate has always been a mystery. The gem box appears randomly on the map among other obstacles. While it is not possible to scam the system into providing gem boxes now and then but there are a few tricks that you can follow to increase the spawn rate of gem boxes in clash of clans.
How much does a gem box give you in clash of clans?
As you might know that a Gem box is a mysterious box that spawns on the home village map. It provides 25 gems upon removal. Since Gems are the most important currency in the clash universe, therefore, players want as many gems as possible in their gameplay.
When do Gem Boxes Appear in Clash of Clans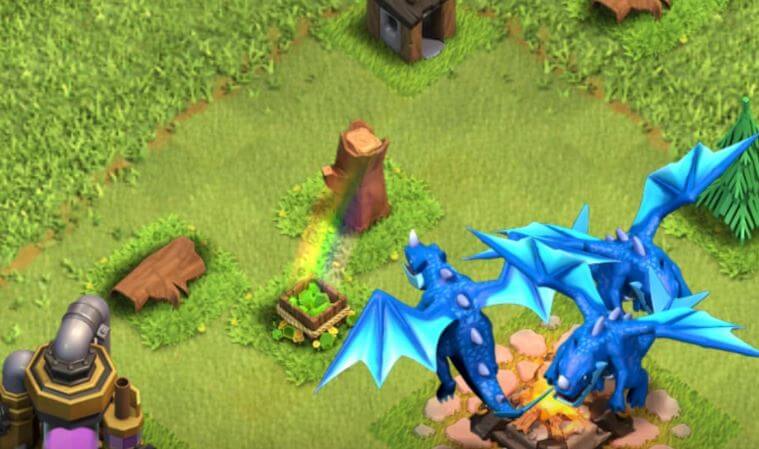 Do you also wonder about How often do you get a gem box in COC? Gems can be used for many in-game purchases. You can utilize them in buying extra gold, elixir, or dark elixir. You can also use these gems to buy potions such as training potions, builder potions, resource potions, hero potions, and power potions.
However, the most common use of gem has always been in giving army boost. Most Clashers use gems to speed up their army production so that they can loot as much as possible in 1 hour.
Another common use of gems is to free up builders from construction work. I won't recommend freeing a builder in exchange for 300+ gems. Instead, you can buy builder potion for that much amount.
However, if your builder can be freed for less than 100 gems then you can use those gems to free up builders.
Sneak Peek #2 – The Gem Box is a mysterious NEW obstacle packed with Gems! Leprechaun not included. pic.twitter.com/wrnsJRnkI5

— Clash of Clans (@ClashofClans) January 25, 2014
If you are an active coach-player who clears up map obstacles, gem boxes, and complete achievements then you can easily recover those 100 gems within a month.
Now you know that Gem is a valuable in-game currency therefore it becomes important to utilize them properly and earn them quickly.
A Gem Box does not spawn at a fixed rate. However, many clashes on the supercell forum have noticed that the COC algorithm produces 4 gem boxes on a map within a month.
This rule is valid only if you have cleared previous gem boxes.
Do Gem Boxes Disappear in Clash of Clans
No Gem Boxes do not disappear on their own in COC. You need to remove them using your builder. If you do not remove the gem box then it will stay there on the map for as long as the account is active.
Clash of Clans Gem Box Glitch
Supercell is strict in its fair play policy. In the early days of coc, there was a glitch in the game that made multiple gem boxes appear on the map within a few hours. The spawning rate of gem boxes was high. Even Sueprcell forums were filled with questions regarding How do I get a gem box in clash of clans?.
Supercell was quick to rectify this issue but ever since then, clashes are hoping to get their hands on once again on such glitch.
Let me clear to you that such a glitch will not repeat. However, if somehow it happened then either all your gems with be deducted from the account or your account will be permanently banned for breaking the fair play policy.
DO NOT GAME THE SYSTEM.
How to Get Gem Boxes in Clash of Clans Quickly
While there is no hack to do so but there are a few in-game fair tricks that you can follow to get back-to-back gem boxes. These are –
Gem Boxes appear on the 2×2 tile icon. You need to make sure that your map is providing enough random locations to the gem box to appear anywhere on the map.
Quickly clear out the gem box as soon as it appears. According to the COC algorithm, no two gem boxes can appear on the same map. You need to clear the first gem box to make room for the second gem box.
Clear obstacles now and then. Many players do not remove trees, shrubs, and other decorator obstacles on the map as they find it beautiful. But once again you need to make space for your gem box. Therefore clear obstacles every time your builder is free.
Apart from this several players have also claimed that if you do not login into your game for 72 hours then the algorithm will pop up a gem box on your base.
I have used this trick several times on my accounts too. You can make two accounts for this. Log out from your main account for 3 days.
You can visit your main account base from your second account. If the gem box appears then it will be visible to visitors too. This way you can quickly log in to your main account and get that gem box.
Clash ON
References: Obstacles