You will love Builder Hall 3 upgrade order. At this builder hall, you can clean those extra trees and shrubs that will give you gems. Not only this but you will also unlock an extra army camp that will make your Builder hall max out journey easier.
Builder Hall 3 Upgrade Strategy
But in order to reap the maximum benefits of your ONE MASTER BUILDER, you need to time your Builder hall 3 upgrade properly. It is important that you use your gold and elixir wisely. This is because you can not just go and loot these resources.
Other than this you have only one builder – The Master builder. So if you want to max out your builder hall 3 wisely then you need a proper guide.
Builder Hall 3 Upgrade Guide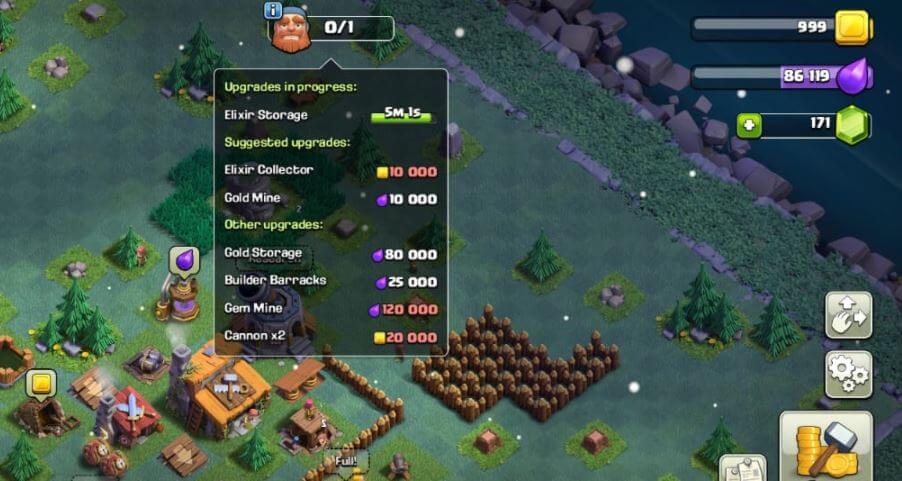 Worry not as we here are to help you. On this page, you will learn the correct and best builder hall 3 upgrade order. You do not have to go and do random upgrades. Follow this guide to learn more.
At Builder hall 3 you will unlock the following buildings – A Gold Storage, An Elixir Storage, one army camp, two spring traps, two mines, One push trap, one hidden tesla, one cannon,  one firecracker, and the mighty crusher. You will also unlock 6 pairs of walls.
If you are following our guides properly then I will assume that you are on town hall 4 and you are enjoying an army boost. This means that your troops will be at max level as per your star laboratory allow.
Builder Hall 3 Upgrade to max Out Base
You might be wondering on what you should upgrade first in Builder Hall 3? Well before you unlock anything we will strongly suggest you upgrade your star laboratory. This way your troop's level will be boosted to max level and you can carry out better attacks.
After upgrading your star laboratory we will suggest you unlock gold storage and elixir storage. You need 150K Gold to unlock all defense buildings and 180K to get that extra army campy. For this, you will need extra storage.
After unlocking your storage you need to quickly upgrade your builder barracks and unlock the boxer giants.
This will give you a strong army and an upper hand in attacks. Do not upgrade your defensive buildings first because that will increase your overall base weight. You will be matched with builder hall of stronger defense if you upgrade your defense first.
You need to increase the number of buildings on your base so that your opponent has to improvise their strategy. Unlock all the traps – Spring, push, and mines.  Unlock all the walls.
Also Read – Town Hall 3 Base Layout
Now your first goal should be to unlock the third army camp. For this, you need to increase your storage beyond 180K. So use your Gold to upgrade elixir storage. Do not remove obstacles yet. If you have boosted the army then don't even upgrade troops in the star laboratory.
Save up all the elixir for the third army camp. Look up in the event section, if there is any special event going on that can give you the rune of builder elixir (or gold) then complete it.
If there are clan seasonal challenges going on then complete it to get extra builder resources.
You can unlock cannon, firecrackers, and hidden tesla in the meantime. It takes time for many of us to score and store the builder elixir. After unlocking the army camp you can upgrade your builder barracks to unlock minions.
Do not focus on upgrading your defenses back to back. Focus on more buildings at the base as it will improve your chances to outweigh your opponent in the result.
Many new players get attracted to the gem mine that is unlocked at this builder hall level. But let me tell you that you will get more benefit in unlocking that extra army camp first. You can repair the gem mine later as.
An Extra army camp means more troops units. More troops mean a better chance of winning the battle. Winning will push you into higher leagues. In higher leagues, you will get a more loot bonus.
That loot bonus will quickly add up and you will have enough to repair the gem mine. See this is like life. Do not have shiny object syndrome. First focus on things that you need it will help you to get things that you want.
Builder hall 3 Upgrade Priority
Here is a summary of the upgrade order
Elixir Storage (Unlock and Upgrade to Level 2)
Gold Storage
Walls
Traps
Barrack (Unlock Boxer Giants)
Upgrade Elixir Collector
Upgrade Gem Mine
Unlock Third Army Camp
Star Laboratory
Crusher
Hidden Tesla
Firecrackers
Upgrade Gold Storage to Level 2
Upgrade Archer tower to Max, then Cannon, then double cannon, then arms
Repair Gem Mine
In the star Laboratory Upgrade Boxer giants then Barbarian then archer and in the end minion. 
References: Gem Mine Wiki